ELDERS
---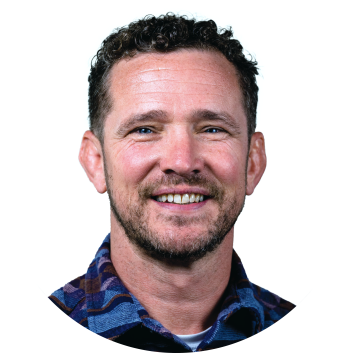 Justin Dean (Lead Pastor - SC Davenport)
ABOUT JUSTIN
As the Lead Pastor, Justin is the primary preaching Pastor for SC Davenport and is responsible for the overall vision and direction of the church and raising up future leaders and church planters.

Justin is a graduate of Liberty University with a Bachelors degree in Business Administration and a graduate of Midwestern Baptist Theological Seminary with a Masters degree in Theology and Church Planting. Justin has been married to his wife Amanda for 18 years, and they have five children. Justin and Amanda planted Sacred City Church with a few friends in 2011.

Justin enjoys reading books by old dead guys, craft coffee, CrossFit, Brazilian Jiu Jitsu, Mountain Biking, Bourbon, and the occasional cigar.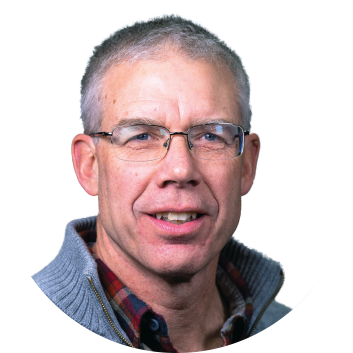 Rob Spykstra (Pastor of Discipleship - SC Davenport)
ABOUT ROB
The pastor of discipleship's responsibilities begins when a guest enters the doors of Sacred City. He oversees the team of volunteers who make the Gathering experience a warm and engaging experience, to personally getting to know those who are new to Sacred City. The aim is to shepherd that guest into missional community experience, through membership and on into further discipleship opportunities. The pastor of discipleship also oversees Missional Communities, a crucial community for discipleship at Sacred City.

Rob is married to Tamra. He has four adult children scattered throughout the United States.

Pastor Rob has a Master of Divinity from Western Seminary in Portland, Oregon. He has been a lead pastor for 11 years and an associate pastor for five years before joining Sacred City. He also had the unique opportunity to be the Resident Minister at Yellowstone National Park. Besides ministering within the church, Rob has experience in classical, Christian education as a Development Director and Headmaster. His wife, Tamra, has a Masters degree in counseling, homeschooled for over 10 years and is also a classical, Christian science teacher.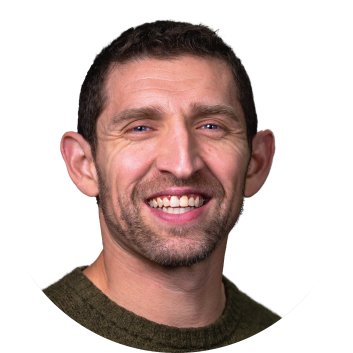 Dr. Alex Arguello (Lay Elder - SC Davenport)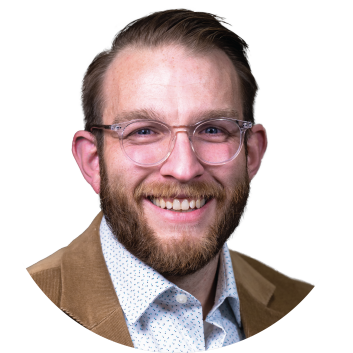 Sam Schmidt (Lead Pastor - SC Moline)
ABOUT SAM
The responsibilities of the Lead Pastor include preaching, leadership development and pastoral shepherding for Sacred City - Moline.


Sam met his wife, Becca, while earning a Bachelors degree in Music at the University of Northern Iowa. They married in 2012 and are raising four future men.


Sam moved to the Quad Cities to be part of the launch of Sacred City Church in 2011 and has been around ever since. In 2017, Sam and Becca were sent out with a core team to plant Sacred City - Moline. Sam also serves on the School Board at the classical, Christian school his children attend.


When not playing backyard football with his boys, Sam enjoys tinkering in the garage, listening to podcasts, bourbon, cigars, following the Las Vegas Raiders and Formula 1 Racing.

DEACONS & STAFF
---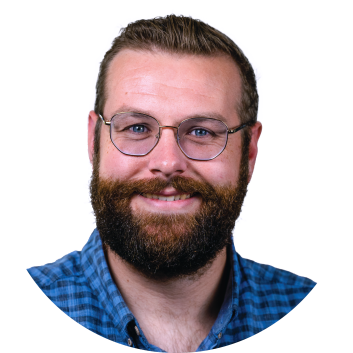 Kevin Knoer (Pastoral Assistant - SC Davenport)
ABOUT KEVIN
The pastoral assistant serves to connect the pastors, staff, and congregation with one another as needed. They oversee the general building needs and can assist in scheduling meetings with the pastors as requested.


Kevin is married Trevje and together they are raising her four siblings.


Kevin is working towards a Master of Arts in Biblical Counseling (MABC) from Midwestern Baptist Theological Seminary and looks forward to graduating in May 2023. He has served on staff at Sacred City since January 2021 after completing our pastoral residency program.
Besides assisting in the day to day operations of Sacred City Kevin enjoys roasting coffee, reading old books and spending time outside enjoying the good gifts of God.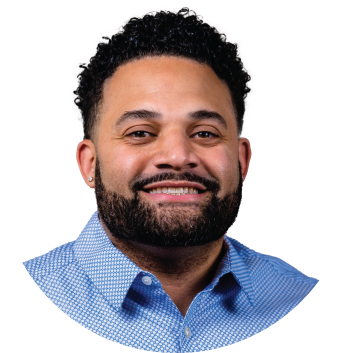 Alex Tate (Deacon of SC Youth - SC Davenport)
ABOUT ALEX
The Deacon of Youth's role is to oversee the teaching and vision of our youth, while partnering with parents in the discipleship of their children through their teen years.


Alex is married to Bridgette and they have three boys: Michael, Camren and Quincy.


After leaving the corporate world after 12 years, Alex followed a call to launch Sacred City Youth. Alex has completed Sacred City's Pastoral Residency Program and is currently in the Elder Developement process.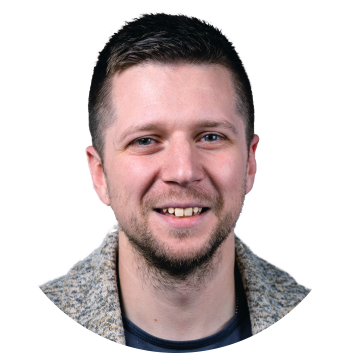 Joel Bickford (Deacon of Worship - SC Davenport)
ABOUT JOEL
The Deacon of Worship (with the oversight of the Elders) plans and prepares all of our service liturgies with elements such as songs, prayers, creeds and confession, and scriptural readings. They also coordinate and train volunteers in their various roles of service for our gatherings, and oversee all creative elements.

Beyond those responsibilities, Joel also oversees all of our online platforms such as livestreaming, social media, our church website, etc.

Joel is married to Julia and they have four children.

Joel has been serving and leading in some capaticy of worship ministry for over 15 years, and has been on staff at Sacred City since it began.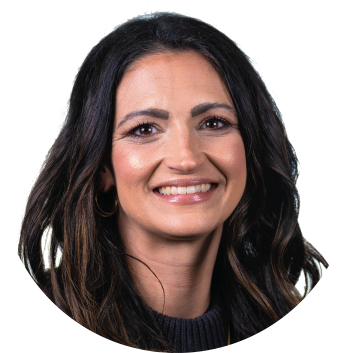 Alisha Miller (Deaconess of SC Kids - SC Davenport)
ABOUT ALISHA
The Deaconess of Sacred City Kids partners with parents in the discipleship of their children and oversees, plans, and organizes all kids ministries and volunteers.

Alisha is married to Jeff and they have three children: Parker, Carsen, and Sawyer.

Being an Administrator since 2019, Alisha has much experience in overseeing and training volunteers, scheduling, curriculum, and writing and implementing new policies in childcare. She was a pre-school teacher for 4 years, and has been serving as an SC Kids teacher since 2015.

She also has been coaching and training at a local gym since 2015. Alisha enjoys working out, bring outside, being with her family, watching her children play sports, and reading.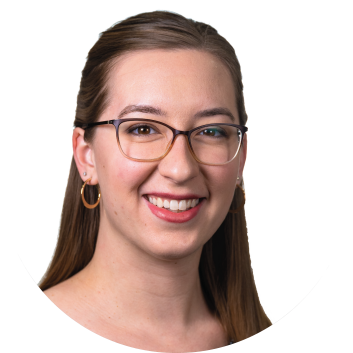 Abbey Taets (Administrative Assistant - SC Moline)
ABOUT ABBEY
The Administrative Assistant at Sacred City Moline helps with logistical, organizational, communication, and administrative tasks for the church and Pastor.
Volunteering in the office since 2018, Abbey came on staff in the summer of 2022, working part-time.


Abbey is married to Eric, and they have one son, Nico.
Abbey has an Associates of Applied Science in Visual Communications (Graphic Design) and has w
orked as a Graphic Designer and/or Marketing Director for 8 years.


In her free time Abbey enjoys exploring, trying new foods, roller coasters, swimming, archery, and hosting events in her home.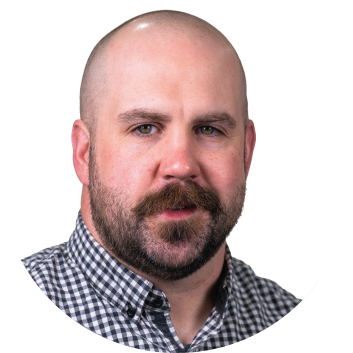 Trent Randle (Deacon of Worship - SC Moline)
ABOUT TRENT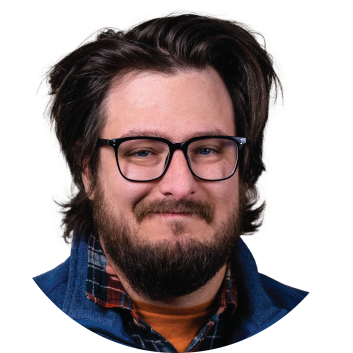 Kurt Schoenhoft (Director of Multimedia - SC Davenport)
ABOUT KURT
The Director of Multimedia oversees the creation of various media like graphics, sermon series artistic design, and printed materials, as well as assists with other behind the scenes aspects of church communication, team organization, and Sunday morning media elements like livestreaming and projection.

Kurt is married to Emily and they have one child (and another on the way in early 2023!)

Kurt received his Bachelors in Interatcive Media from Nossi College of Art and has been in the media field for 8 plus years doing marketing and freelance creative work.

In Kurt's downtime he enjoys hanging out in the woods either throwing frisbees, hiking/running, or dodging trees on a bike.